The 4-D Network
We are a community of professionals dedicated to helping our clients access the healing and power they need to experience new depths of self-esteem, pleasure, and erotic connection.
We are dedicated to supporting each other on a path of professional mastery through training, collaboration, and the promotion of each others' work.
The 4-D Wheel Approach to Sex Therapy
…and how it can help you help your clients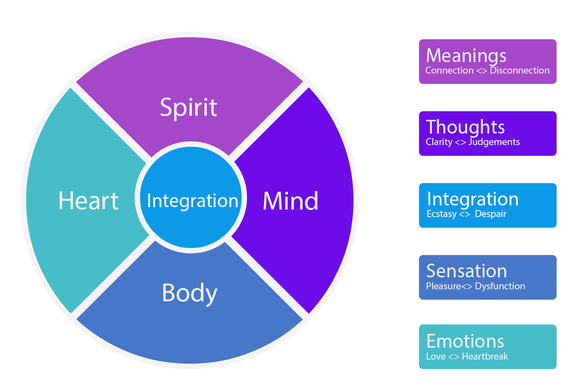 At the heart of our approach to sexuality therapy and counseling is the engaging and innovative Four-Dimensional Wheel of Sexual Experience. This serves as an interactive map that guides your clients to explore the physical, emotional, mental, and spiritual aspects of their sexual issues–including desire, pleasure, pain, intimacy, trauma, dysfunction, and much more.
The 4-D Wheel can be incorporated into any kind of work you are already doing with clients, whether or not you are a sex therapist or sex counselor. Practitioners who have successfully incorporated this sex counseling approach into their practices include therapists, psychologists, counselors, coaches, teachers, physicians, nurses, and other health providers.
Working with the Wheel is a unique approach that can help you to help your clients move out of stuck places, cultivate the nurturing relationships they wish for, and discover the joys of pleasure, intimacy, and passion in their sexual partnerships.
The 4-D Wheel serves both you and your clients.
The Wheel is useful for with individuals, couples, and groups, and especially beneficial for your most challenging sex therapy clients who come to you with the following issues: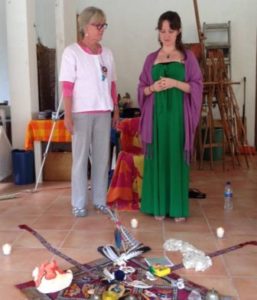 Sexual dysfunctions- Using the Wheel helps your clients maximize options for change by differentiating among the emotional, mental, or spiritual components of physical issues.
Low self-esteem- Using the Wheel helps your clients discover options for a fuller sense of self and relationship.
Sexual Identity and expression- Using the Wheel helps your clients explore all that it means to be who they are: male, female, trans, gay, lesbian, queer, heterosexual, poly, monogamous—and to identify infinite other aspects of their sexual and erotic expression.
Communication problems- Using the Wheel offers a safe and potent forum where your clients can speak and listen mindfully from each of the dimensions: physical, emotional, mental, and spiritual.
"Stuckness," rigidity, defensiveness, resistance to change, attachment to past experience- When you introduce the 4-D Wheel to your sex counseling clients you inspire them to move beyond the negative patterns and stories they've been living by and consider new options.
How the 4-D Wheel Helps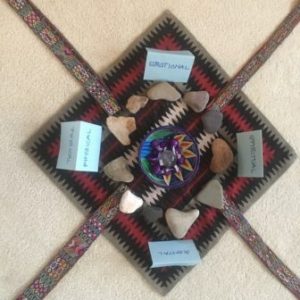 The Wheel is comprised of visibly distinct sections that differentiate the emotional, physical, spiritual, and mental aspects of sexual experience; as soon as you introduce your sex counseling clients to the Wheel, they can clearly see that their stories connect with all these aspects of their lives. Using the visual diagram may be enough to change the course of sex therapy- expanding their focus away from their problems and wounds, and toward positive paths to what they want.
After introducing the Wheel, you also have the option of asking clients to get up out of their chairs and literally step into the Wheel, to explore the emotional, physical, spiritual, and mental aspects of the issues they have brought into therapy. Telling the story from the perspective of each quadrant enlists their body intelligence and provides rich layers for both you and the client- information that that may never be accessed during talk therapy. Using the 4-D Wheel may seem deceptively simple, but processing the content that arises can offer profound shifts for clients, with integration that is complex and deep, even "beyond words."
Why the 4-D Wheel Helps
Using the Wheel encourages your sex therapy clients to step into an active role for their own growth and change. A special trust builds as you let go of the role of expert and collaborate with them in this way. As your clients begin initiating more, you as the practitioner can "witness" more, "fix" less, and become increasingly transparent about teachable moments. You will find yourself doing less work. Your clients will find themselves feeling more powerful and free….and they will think you're a genius!
4-D Network Practitioners share how the 4-D Wheel works with clients…
Click questions below to see the answers…

Can I use the Wheel with Cognitive Behavioral Therapy (CBT) for effective sex therapy?
"Yes. I use the Wheel in conjunction with CBT. By doing so, I can help clients to enter into a more holistic healing process. Instead of consciously changing thoughts, with the Wheel, we explore alternative states of body, heart and spirit, and then we experience the corresponding difference in the mind." -Lindsay Jernigan, PhD
Is the Wheel effective with sex therapy clients who suffer from effects of sexual trauma?
"Yes. Like many therapists and medical providers in the field of sex therapy, I work with clients with histories of trauma. When clients are dissociative and/or emotionally flooded, I've found that just identifying past trauma and talking about it does not engage the rich potential of the brain's neuroplasticity. Using the Wheel has been a breakthrough in my practice because it offers a practical and efficient way to help clients literally move the new connections they create in their brains directly into their life experience." -Keesha Ewers, PhD
Does the Wheel support work with affairs and other issues that arise in couples counseling and relationship counseling?
"Yes. I have found the Wheel to be one of the most helpful, adaptable, world-opening tools in my clinical kit. In settings where couples or co-workers are struggling to cooperate or understand one another, the 4-D Wheel brings their unconscious debilitating scripts to awareness and opens up the possibility of rewriting them. It invites the freedom to explore a sexuality where the body is a sacred vessel, the heart can open, and a journey of self-discovery and mutual self-revelation can take place between partners." -Chelsea Wakefield, PhD
Can I use the Wheel with clients who are religious?
"Yes. As a therapist working with a religiously conservative population, I find a sadly common scenario: men of all ages are self-diagnosed as pornography addicts and diagnosed by those they love and trust as well. The Wheel has offered me an opportunity to create a space where these men can explore their sexuality without negative judgments and without having to perform (or stop performing) in some specified way. Using the Wheel, I can invite them to examine their internal world and inhabit it in ways they had never been able to before." -Kristin Hodson, MSW
Can I use the Wheel with GLBTQQIA issues?
"Yes. I focus on issues that arise with many kinds of partnerships and often very intense situations. The Wheel offers an enlightening and efficient way to help clients speak about otherwise impossible subject matter–to express feelings about queerness or manhood or parenting for the first time ever." -Elliott Kronenfeld, LICSW
I'm an MD with strict time limitations--Can I use the Wheel to counsel my clients with their sexuality challenges?
"Yes. For example, I use the Wheel as part of my pelvic exam protocol for women with histories of pain and trauma. I place the Wheel on my desk and ask her to create one-word descriptors for how she experiences her own vulva- physically, emotionally, mentally, and spiritually- so that she creates both negative and hoped-for positive words for each. The pelvic exam is greatly enhanced by providing a common language we can use during the exam to locate areas of pain and of the release and pleasure she anticipates in the future." -Debra Wickman, MD
How does working with the Wheel compare to other types of sex therapy?
"Working with the Wheel, clients start to rely on their self-knowledge and intuition rather than asking the therapist for explanations, answers, and suggestions. I am continuously surprised at how smoothly catharsis emerges and solutions develop that I could never have dreamed of myself. The process enables a depth of story and meaning beyond any theoretical approach I had learned in my 15 years as a therapist." -Kamara McAndrews, LMFT