The decision to become a sex therapist was wholeheartedly based on the belief that everyone is born with the birthright to choose: the freedom to choose who to love, how to express love, how to share one's body, and the freedom to say no. I love being a sex therapist because it allows me the sacred honor of holding space for my clients as they discover, explore, and accept their authentic sexual self.
I also believe that above all my work is to serve: To serve the society I live in and to give voice to individuals and groups who have historically been marginalized or effected by the behaviors of others. To be of service by caring about the welfare of a nation's heart and its people. To serve and assist others in finding their voice and expressing themselves in a more authentic and genuine way.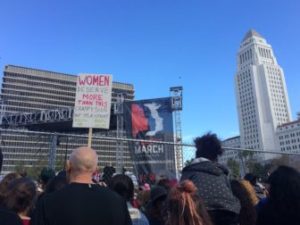 And so I marched that Saturday. I marched in solidarity with every client that has ever sat across from me and learned to more fully accept him/herself. I marched for all the women I have held space for to talk about their reproductive rights. I marched for every woman and child whose "no" was not heard for I refuse to normalize that grabbing a woman is simple locker room talk. I marched for the dignity and respect of all especially those that think their voices do not count.
For if there is a silver lining to our nation's current condition is that people are done being asleep and complacent. People are awakening and indignant.
What I saw in the streets of Los Angeles that day was magical. Women, men, and children gathered calling for the decency and respect for all and saying no to contempt, injustice, bigotry, sexism, misogyny, and xenophobia. They shouted against insulting minorities, mocking the disabled, taking advantage of women, building walls that separate, and excusing the behavior of an imperfect man.
I marched that day along with millions of others across this beautiful world. We all marched that morning choosing to love and to act from love.
It also does not end at the march. I for one am choosing to be active by supporting different groups whose causes I believe in. This is not about being political, but using our voices to create a landscape that we desire. A principle our country was founded upon.
The 4D Community participated in many marches across the USA. To see pictures of these marches and learn why each 4D practitioner marched, check out our Instagram page.
---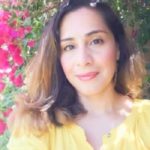 Jacqueline N. Mendez, M.A.
Professional Life Coach
AASECT Certified Sex Therapist
21201 Victory Blvd, Suite 200
Woodland Hills, CA 91303